The following websites and phone numbers are available for teens in crisis or in need of help. Please do not hesitate to use these resources.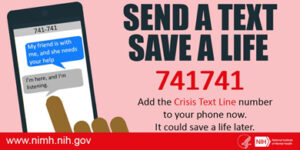 Crisis Text Hotline 24/7 support for those in crisis. Text 741741 from anywhere in the US to text with a trained Crisis Counselor. Click here for more information
Trained counselors will help move people from a hot moment to a cool calm, guiding you to create a plan to stay safe and healthy.
24 Hour Hotline
Reach an Rape Crisis Center specially trained advocate by calling the
24-hour hotline 877-906-7273 or 330-434-7273.
Visit Race Crisis Center and Hope & Healing
Advocates will provide non-judgmental information about legal or medical options, therapy, crisis intervention, support, and referrals.
To request anonymous help or to anonymously report a suspected human trafficking, call the
National Human Trafficking Resource Center (Polaris Project) Hotline at 1-888-373-7888 or text "HELP" to BeFree (233733).
Click here to visit online
Pregnancy Choices
Visit Pregnancy Choice online
Pregnancy Testing
2780 S Arlington Rd. Suite 203, Akron, OH 44312
(330) 915-6321
Pregnancy Choices offers free STD testing and results appointments. Trained and licensed medical professionals can test for the following:
• Gonorrhea
• Chlamydia
• HIV screening
• Bacterial vaginosis
• Yeast infections
• Urinary tract infections
For more information or to make an appointment,
call 330.455.7500 or text 330.961.1772.